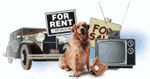 Items For Sale!
---
Auto & Truck
pic SOLD!***** 69 Dodge B-100 Van. Great recreation vehicle that runs good. Rust on lower quarter panels and some hail damage on passenger side. Auto-trans on dash, keystone wheels, paneled interior. A steal at $500.00.
pic SOLD!***** 72 Lincoln Continental Mark IV. Body in excellent condition. No dents or scratches. Auto-trans, 460 engine, Brown leather interior. All power, wide whitewall tires. Asking $3800.00.
---
Collectibles
---
SOLD! Coca-Cola glasses. Set of six.
pic Coca-Cola gas station picture. Very nice! Oak frame.
SOLD! 1.5 quart Gay Fad Fire King Casserole with lid.
SOLD! Winnie the Poo View Master.
SOLD OUT! Old Orange Crush bottles. Several to pick from.
pic Greatful Dead fuzzy bear logo stickers.
pic Antique cake cover with lid. VERY COOL!
pic German Republic red ruby hand cut crystal compote lid.
SOLD! Original Margaret Strong Cream Steiff Teddy Bear.
pic 24 inch Margaret Strong Cream Steiff Teddy Bear. Signed by Otto Steiff!
---

Pet Supplies

---
pic ExSTINK your life! Get rid of odors forever!
pic Large, thick leather Dog collar! NICE! Made by Amish people.
---

Miscellaneous

---
pic I DON"T CALL 911 T-shirts! Let them know you don't mess around!
pic SOLD OUT - 1 penny per minute Phone card! 1951 minutes for 20 bucks!
pic Boundary Waters Canoe Area Poster and Baby Box Turtle.
pic PUSH PULL decals. Stickers for enter or exit doors.
pic Signs to put in your window to keep out burglars.
pic IBM Thinkpad laptop computer.
pic CondoCams Fun Meter Buttons.
Musical Instruments

---
Coming soon...An antique trumpet E-mail if you want to see it.