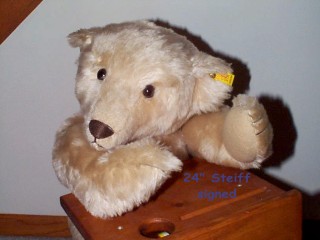 More pictures below!

Original Margaret Strong Cream Steiff Mohair Teddy Bear.
Signed by Hans Otto Steiff and his wife Birgit Eitle Steiff in 1986 when they visited Minnesota.
This big Steiff Bear is extremely rare and hard to find!

He stands 24", (60.96 cm). He has his ear tag and raised button and chest tags still in place. This cute bears stock number is 0157/60. This Steiff has cream colored genuine mohair, felt pads, brown glass eyes, excelsior stuffed and all jointed. This very rare and collectable Steiff is in excellent condition. His left foot has a little bit of the felt missing from running around for so many years. He even has a growler that still works good. It sounds like a real baer! This bear is really big and needs a lot of love. When you hug him, it gives you a warm feeling!
There are a lot of pictures so please be patient and let them load. These kind of bears are quite expensive so please only inquire if you are serious about buying. If you have any questions please ask them before you purchase.
E-mail condocams@hotmail.com to ask questions.
Sale price today is $3650.00 US.

Happy looking and good luck in being
the first to place your order, there is only one of these here!

---
The pictures show just how cute this BIG guy is.
This set of pictures should pretty much tell
you just about all there is to know about him.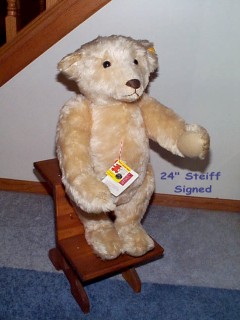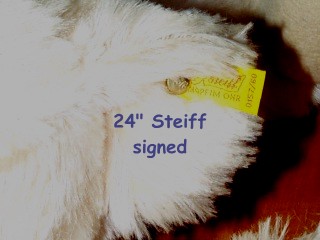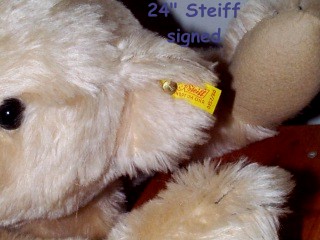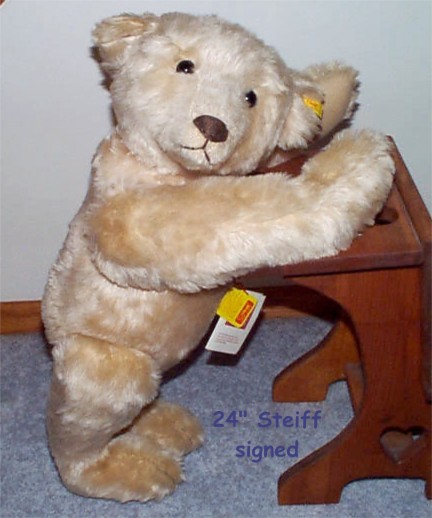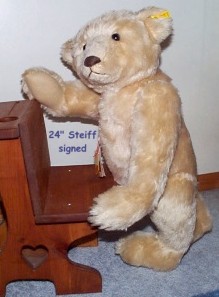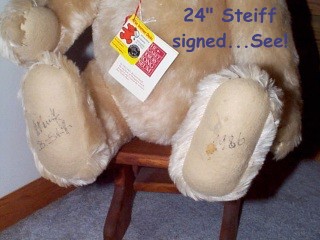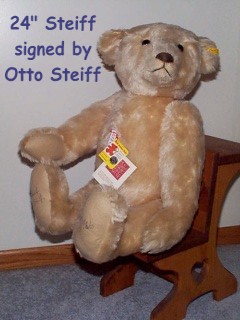 Order Online Now
We use PayPal!
One of the most trusted secure payment forms on the net!
We Accept These Major Credit Cards









Credit card transactions are the safest and fastest way to get you items!
Shipping and insurance costs $26.00
We ship only within the United States.

Your Shopping Cart will POP in a new Window.
To purchase this item with your personal check or
credit card click the 'ADD to Cart' button below.
Credit card transactions are the fastest, safest way to get you items!
Order Online Now by clicking the "Add to Cart" button!

Thank You for Visiting Our Sale!



---