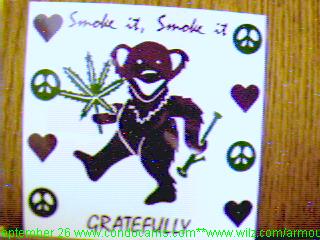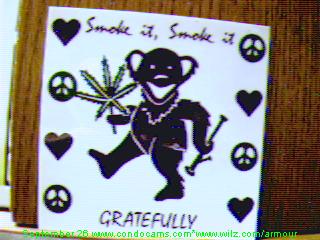 smoke it, smoke it gratefully
These stickers are very cute. We have 9 of these left. They measure 4" x 4". They are made of clear mylar with presure sensitive adhesive. The background is clear with a nice blue/purple and forest green design with the Greatful Dead fuzzy Bear logo holding a pretty (pot) plant and a bong. It also has hearts and peace signs along the border. Heart, peace sign, heart, peace sign. The label has the words "Smoke it, Smoke it Gratefully" screen printed on it. These decals were screen printed two colors on clear and laminated. They were never used because they still have the 90 lb. liner on the back. I got these at a Grateful Dead concert in 1989. Jerry Garcia was awesome! The decal would brighten up any kitchen or look cool on you car window or just about anywhere. Keep your sticker safe because it is for sure a collectors item!
Sale price today is $10.00 plus $6.50 shipping and handling.


To purchase one or more great Grateful Dead Stickers with your
personal check or US issued major credit card, you can
click the 'ADD to Cart' button below

Your shopping cart will POP in a new window.

Money order and credit card payments ship right away! Checks take 7 to 10 days to clear.

**These Major Credit Cards Accepted**









Credit card transactions are the fastest, safest way to get you items!
Order Online Now by clicking the "Add to Cart" button!


Thank You for Visiting Our Sale!


Get rid of stinky odors forever