*>Solid Oak Framed Old Time Gas Station Picture<*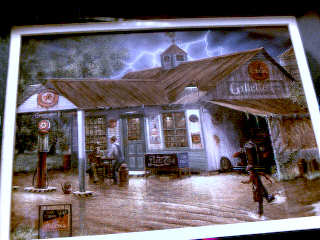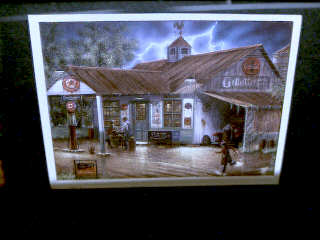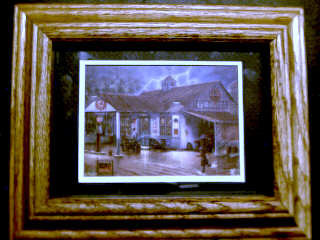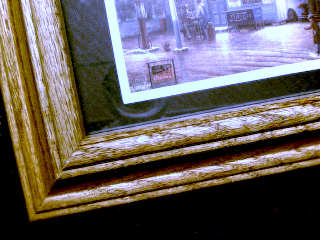 Now this is what every person who likes to collect Coca-Cola pictures should have! This old picture has a Coke sign on it. The frame is made of solid heavy oak. The outside of the frame measures 8" x 10" and the inside of the frame measures 4.5" x 6.5". It is double matted. In the picture there are a lot of signs hanging at the gas station where the gas price was only twenty two cents a gallon. Here is a list of the signs I can read. One big round Coca-Cola sign with a big Gillette sign under it. On the front there is a nice round Coke sign to the left of the door and on the right there is a Dr. Pepper sign and two other ones, I think one might be Orange Crush and a big Pepsi-Cola cooler with a wooden Coke bottle case under it. A Ford logo in the garage along with an old Model T. There are two milk tins on the side of the garage. Hanging out front there is a neat Copenhagen sign, label or decal and a Texaco gas sign also. On top there is a cool rooster weather vane with lightning shooting across the sky. The pics here are not very clear but the picture itself is very clear and the oak frames are very solid and real nice! There is glass covering the picture.
We are sold out of these items for now.
As soon as we get more in, you will be able to
purchase one with your check or credit card.

Thank You for Visiting Our Sale!