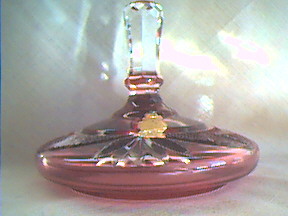 If you have flipped your lid then this is for you! This is a very old hand cut Clear lead crystal cut through ruby crystal. It was hand cut in the German Democratic Republic. Compote lid. The compote or candy dish it went with broke. :o( This lid is in mint condition and is absolutely beautiful!!! This compote cover will fit an opening on another compote or candy dish with an opening of 4.25" perfectly. The height is 4.75" when resting on a table to the top of lead crystal handle. The perfect gift or Christmas present for a loved one.
Sale price today is $38.50 plus $8.50 shipping and packaging.

To purchase this item with your personal check or US issued major
credit card, click the "ADD TO CAT" button below.


Money order and credit card payments ship right away! Checks take 3 to 7 days to clear.

**These Major Credit Cards Accepted**









Credit card transactions are the fastest, safest way to get you items!
Order Online Now by clicking the "Add to Cart" button!


Your shopping cart will POP in a new window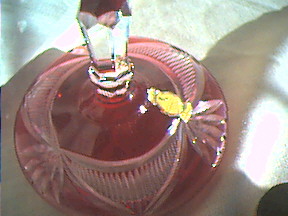 If you want your item shipped outside the
lower 48 US states, please contact Armour Die Cutting as they are the seller.

Thank You for Visiting Our Sale!


100% NON-toxic ordor remover