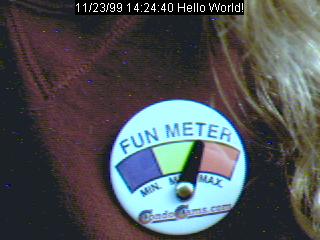 Finally here!!!!
The CondoCams Fun meter buttons!

The pointer moves to show how much fun you are having!
Get one for your friend, family member or co-worker.
Better yet, get one for yourself!
Call to order a bunch for a special occasion or party.
Please be sure to E-Mail to purchase a button or
just click below to buy one with your credit card.
The price is just $4.25. That includes shipping!

---
Money order and credit card payments ship next day! Checks take ten days to clear.

---

**We Now Accept Payment by Visa or Mastercard!**Credit card transactions are the fastest, safest way to get you items!


Order Online Now
We use Authorize.net!
One of the most trusted secure servers on the net!

You will see our ADCS logo on the secure page!
*Price includes shipping in the Continental USA only. If outside the USA please E-mail your location for a quote. All orders will be confirmed by a response E-mail. We have a limited number of buttons so, order now!

---
Thank You for Visiting Our Sale!
---
Back

---